Introduction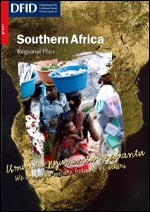 The unprecedented level of political willingness to make poverty history in Africa has been made possible by the leadership of change from within Africa and a growing consensus across the international community about how best to support transformation and development on the continent. The challenge now is to make it happen.



The UK Government put Africa at the centre of the 2005 G8 agenda. The commitments made by G8 leaders at the Gleneagles summit provide unprecedented political support for the changes set out by African leaders in the African Union (AU) Nepad (New Partnership for Africa's Development) agenda. Regional approaches are central to this and the Commission for Africa (CFA) report supports the African Union's view that Regional Economic Communities (RECs) will be key 'building blocks' of an Africa-wide development agenda.



The clear priority being given to regional approaches by all these institutions compels the UK to assess when, where and how such approaches can best complement strategies at country and continental levels to deliver the Millennium Development Goals (MDGs).



The Regional Plan describes the vision and rationale for piloting a regional approach to poverty reduction which will add value to the country-led approach. Taking account of the specific characteristics of the Southern Africa region interventions in three thematic areas are proposed:



Growth, jobs and equity,
Resilient livelihoods, and
Peace and security.


These themes are interrelated. A secure environment is a prerequisite for people to be able to pursue a livelihood. Roads and viable transport are needed to get produce to markets. Increased investment, essential for promoting and sustaining economic growth, will only happen in a secure environment with a sound infrastructure and a healthy and stable workforce.



Within these areas, priorities are drawn directly from the G8 commitments on trade, infrastructure, food security, water, climate change, HIV and AIDS, infectious diseases and conflict.
Targets for impact of DFID investments

By 2010 up to:


30% increase in local sourcing by South African supermarkets



5% increase in horticultural exports



30% decrease in waiting time at one stop border posts



25% reduction in transport costs for landlocked countries



10% of predictable hunger needs being covered in at least three countries in the region



50% reduction in malaria related mortality



50% increase in TB case detection and treatment



Reduction in HIV infection rates